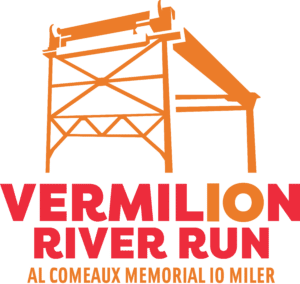 Vermilion River Run 10 Miler
This is the final race of our Triple Crown Challenge. It is strategically placed on the calendar before many of the spring marathons and half marathons. It is the perfect distance for the build up on your training plan. The event is held at Picard Park in Milton, Louisiana. The tradition will continue and a specialty item, such as a jacket, will be given to those who register. The Must Register by Date is TBD! We will NOT be doing a reorder/reprint.
Race day registration is available, but there is no guarantee that you will receive a jacket in your size. Quantities are limited. Must register by date is TBD! We will NOT be doing a reorder/reprint.
Cash awards will be given to the TOP THREE OVERALL male and female winners. Awards will be given to the top THREE finishers in each age group: 12 and under, 13-19, 20-29, 30-39, 40-49, 50-59, 60 and older. We will add older age groups in 10 year increments as needed.
January 19 at Geaux Run by Fleet Feet from 12:30pm – 5:30pm
Packet pickup will be available race day as well, from 6:45am to 7:50am. Race starts at 8am. WE STRONGLY ENCOURAGE YOU MAKE PACKET PICKUP SO RACE DAY RUNS MORE SMOOTHLY
Through 6/13: $45
6/14-9/5: $50
9/6-12/5: $55
12/6-1/18: $60
Packet Pickup/Race Day: $65
**Online Race Registration will close on January 19, 2024 at 6pm for timing purposes. We will have in person registration at packet pickup and race morning*
An additional $5** will be discounted for Cajun Road Runners Club members (**NOT VALID FOR VIRTUAL OPTION)